Homes for Rent in Montgomery AL
If You Are Looking For a house to Rent in Montgomery, You've Come to the Right Place
A.L.M. Properties is a full service Rental Management Company serving the Montgomery, AL area.   We serve a growing need for a professional property management company that specializes in residential single family homes. We accept homes on a case-by-case basis, and have homes with rent ranging from $1000 to over $3500 per month.
All applicants that are looking for houses to rent must complete a thorough credit check and provide a security deposit (equal to one month's rent) and the first month's rent upon approval and acceptance of rental agreement.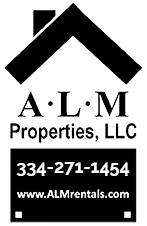 Montgomery Is A Great Place To Rent A Home
Located beside the Alabama River, the amazing city of Montgomery Alabama is an incredible place to take root. Whether you are looking for a house for rent or you are looking to buy a home to call your own, the city of Montgomery is the perfect place for you. According to the 2010 Census, Montgomery, the capital city of the state of Alabama, is the second most populous city in the state with plenty of room to keep growing.
There is so much to do in the city of Montgomery Alabama as well. The city is home to amazing entertainment options and world class theaters. Attractions like the Riverwalk stadium, Civil Rights Memorial Center, and the Montgomery Zoo provide people with options for fun things to do in Montgomery Alabama.
The city also has multiple colleges and universities. From Auburn University at Montgomery to Troy University to Alabama State university, there are several different college opportunities in the city.
The warmer climate is something to be excited about in Montgomery. It could be categorized as a humid subtropical climate with short, mild winters. There are also several jobs up for grabs in Montgomery, including an abundance of military jobs. There are plenty of homes for rent around the city as well, and ALM Properties is committed to helping you find the house that is perfect for you so that you can enjoy the city to the fullest.